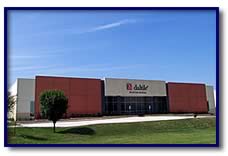 We Pay Attention to the Details!
Pardon our bragging, but we do tilt-wall better! Whether you call it tilt-wall, pre-cast, exposed aggregate panels, washed rock, architectural concrete walls, tilt-up panels, site cast or "big boxes"; Component Construction walls look better. Drive by our headquarters at 6333 Airport Freeway in Fort Worth and check it out. We have four in a row, 6313, 6323, 6329, and 6333 that stand out from the crowd. 6333 is 20 years old, 6329 was built 15 years ago, 6313 is 8 years old and 6323 was recently completed, but they all look brand new. Experience counts and we have been doing tilt-wall for 33 years.
We hand place the aggregate to avoid bare spots and/or splotches of concrete. Our experienced concrete crews take pride in the appearance of the finished product. We build it as if we were going to own it ourselves (and sometimes we do). Straight lines, clean appearance, attractive accents, more lifting points to prevent stress cracks and proper bracing combine to make Component walls look different and better.
We have a 33-year relationship with Butler Manufacturing Company, the world leader in pre-engineered steel structural systems. Butler's Delta Joist structural system is designed and engineered to support tilt-wall, without space stealing columns, to put you in a tilt-wall building more quickly and economically than other methods.