Construction Management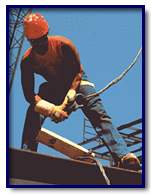 is a contracting method that was developed specifically for the purpose of bringing the General Contractor into the building program during the design phase to join the team of Owner and Architect/Engineer. The role of the General Contractor is to bring his construction knowledge and information to the team so that as selections / decisions are made to meet the owner's functional and aesthetic requirements they will also fit within the budget, schedule and quality requirements.
COMPONENT CONSTRUCTION COMPANY
does just that with their experienced personnel, extensive data banks and state of the art computerized estimating, scheduling and value analysis programs. After containing your budget and schedule thru-out design, Component Construction will provide a Guaranteed Maximum Price, mobilize the jobsite and manage the site and subcontractors on a daily basis for quality, schedule and safety.
Component will meet and exceed your project's requirements with the professional services / systems of:
As an owner your major construction risks are TIME, COST, QUALITY and SAFETY. Component is your best risk management solution. You receive all of the cost and schedule guarantees available in a lump sum general contract, without the associated headaches!
Component Construction has furnished CM services for many area owners, including: Dal-Tile, Hillard Saturn, Lake Shore Baptist Church, Shady Grove Baptist Church, 6323 Airport Fwy LP, Huggins Mitsubishi, Birdville ISD, Richland High School, Haltom Middle School, Smithfield Middle School, Watauga Middle School, Springtown ISD, 6313 Airport Freeway L.P., LeMans, U.S. Liquids, 2509 Weaver, L.P., Springtown ISD, 8717 Forum L.P., and Mrs. Bairds Distribution Center.
Randall Haefli, President of Component, has been an organizer and participant in numerous training seminars on CM at Risk contracting.
Please contact rhaefli@CMatRISK.com for additional information on the Construction Management process.
Component Construction Company
6333 Airport Freeway/ Fort Worth, TX 76117/ (817) 834-6274/ fax: (817) 834-6411/ email: info@CCCbuilds.com